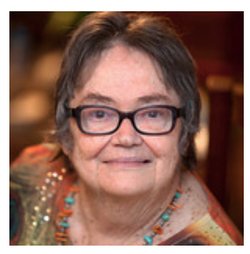 Genevieve Vaughan was born in Texas in 1939. She is an independent researcher. After finishing college in Pennsylvania in 1963 she married philosopher and semiotician Ferruccio Rossi-Landi and moved with him to Italy where they had three daughters. The couple participated in the beginnings of the Semiotics movement in Italy as well as in the Italian Left, where Genevieve got her political consciousness raised.
After her divorce in 1978 Vaughan became a feminist, participating in the Italian and international feminist movements. She began to see the fact of women's free labor in the home as a gift economy, the unacknowledged free economy of women from which communication and community derive. Her two early essays 'Communication and exchange' (Semiotica 1980) and 'Saussure and Vigotsky via Marx'(1981) deal with language and economics, a theme introduced by her husband but which she elaborated in alternative directions, and which she has been working on throughout the rest of her life. In 1983, Vaughan returned to Texas where she started the Foundation for a Compassionate Society, a multicultural all-women activist foundation which initiated many innovative projects for social change based on the political use of 'women's gifting values'. The Foundation closed its doors in 2005 after two final international conferences: A Radically Different Worldview is Possible: The Gift Economy Inside and Outside Patriarchal Capitalism, 2004 and Societies of Peace: the Second Congress of Matriarchal Studies (under the guidance of Heide Goettner Abendroth), 2005. Several other conferences have been held including one in Toronto in 2011 called A (M)otherworld is Possible in collaboration with Goettner-Abendroth and in conjunction with the Association for Research on Mothering.
Genevieve's first book For-Giving, a Feminist Criticism of Exchange was published in 1997 by Plain View Press and has since been translated into many languages. She has edited two books: an issue of the Italian journal Athanor. IlDono/The Gift: A Feminist Perspective, Meltemi (2004) and Women and the Gift Economy: A Radically Different Worldview is Possible (Inanna Press 2007). An ebook Homo Donans appeared in 2006. Her most recent book is The Gift in the Heart of Language, the Maternal Source of Meaning (Mimesis International 2015). Another edited book of essays from an international conference held in Rome, Italy in 2015: The Maternal Roots of the Gift Economy is now in press. A film of that title is available on YouTube.
Genevieve has also written several children's books and has made a cd of her songs. A film about her life and work Giving for Giving, came out in 2007. In 2001 the network, International Feminists for a Gift Economy was formed. It consists of activists and academics from many nations who are incorporating the perspective of the gift economy into their lives and work and who present the idea in many different venues and conferences.
Most of Genevieve's books and articles are available free on her website www.gift-economy.com. Many of the speeches of International Feminists for a Gift Economy and others are available on the site as well.
Although Genevieve finds the many experiments on the gift economy that are now emerging to be very encouraging, she believes that a theory of gifting that emphasizes the maternal prototype is necessary for widespread and radical social change